John Budicin

Plein Air on the Shores of Lake Como

Oil

September 5-12, 2018
Spend a week painting, living, and relaxing with a small group of artists on the shores of beautiful Lake Como. Here is paradise, where the majesty of the Alps meets the blue of one of the deepest glacial lakes in Europe. Part of the beauty of this picturesque area is the variety of subjects for an artist to explore...harbor scenes, street scenes, architecture and gardens.
Talented artist and instructor Jon Budicin will teach for five days.

"Bellagio"
by John Budicin
"The essence of this workshop is to focus on what to look for: how to simplify and unify shapes. Beginning with a simple statement of shapes and values is the first step and from there we introduce the light source. Once the light source is established we remain true to the position of the light . Learning to see and respond to the beauty nature presents, then translate that into a personal statement is the goal.
Working small gives me the ability to capture the feeling and response to what nature presents me with.
I like working individually with each student and direct them towards developing their personal way of seeing." Jon Budicin
The workshop includes five full days of instruction, and one free day for exploration or painting on your own. We will paint daily at different locations...Bellagio, Varenna, and Lenno, just to name a few. While working on our painting skills, having fun and taking in the beauty and sites of Lake Como will make this a trip to remember!
This workshop is open to a maximum of 8 students to allow for highly individualized attention.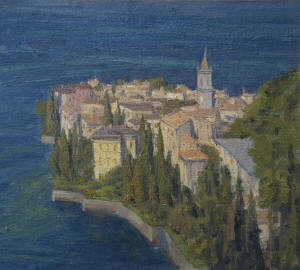 Accommodations, Meals & Transportation
Accommodations will be in a lovely albergo on the shores of Lake Como. All rooms are private and include private bath. A bountiful buffet breakfast will be served daily. In the evenings, we will enjoy very special dinners together in the charming hotel restaurant which sits over the lake. The hotel is in a small village about five kilometers south of Bellagio. The views in our small village and from the hotel itself are wonderful. One doesn't have to go far to find ample opportunity for making great pictures!
Included in the artist fee are group transfers from and to Milan Malpensa airport upon arrival the morning of September 5 and departure on September 12. Transportation of artists to painting locations is also included in the fee. The guest fee also includes airport transfers. Airport transfers will be scheduled as a group and arrival into Milan Malpensa must be no later than noon on September 5 in order to take advantage of these arranged transfers. Please plan flights accordingly. Artist transportation to painting sites will be by a variety of means, including ferry, local bus to Bellagio, and private boat. This is a quick, safe, and fun way to travel around the lake!

Painting in Lenno
Included: Instruction, 7 nights accommodations (single occupancy-private bath),
all breakfasts and dinners, airport transfers, transportation of artists to painting site, taxes and tips.
Not included: Airfare

View from Villa Balbianello
Fees, Payments & Conditions
Artist Fee: $3750 Single Occupancy/Private Bath
$3150 Double Occupancy (only available for friends who want to share)

Guest Fee: $1150
Shared bedroom with painter
Includes same meals and airport transfers

Lenno's Harbour

Villa Melzi - Bellagio

Varenna
A deposit of $600 will hold your place in the workshop. Deposit is refundable until 6 months before workshop commencement. After this time, deposit will only be refunded to the participant if his or her place can be filled in the workshop. After 6 months before workshop commencement (March 5, 2017), in the event of participant cancellation, all deposits and payments collected from participant are nonrefundable unless workshop is full and cancelling participant's place can be filled in the workshop. All refunds will be less a $200 administrative fee. IT IS STRONGLY ADVISED THAT PARTICIPANTS PURCHASE TRIP INSURANCE AT TIME OF WORKSHOP DEPOSIT!*
*Trip insurance can be affordably purchased at www.insuremytrip.com or www.globalalerttravel.com .
Some policies through Global Alert cover "Trip Cancellation" for a variety of reasons other than medical.
Second payment of $1500 is due March 5, 2018.
Balance of fees is due June 5, 2018.
Make payments by check to Open Air Italy, LLC.
Mail checks to:
Open Air Italy/Susan Truitt
51 Chester St.
Jonesborough, TN 37659
Payments may also be made by credit card using PayPal. Please inquire and I will send you a PayPal invoice.
Workshop must have a minimum of 6 participants 4 months prior to commencement date in order to proceed as scheduled. In the event of cancellation by Open Air Italy, full refunds will be given. In the unlikely even of cancellation by named instructor, he or she will be replaced with the most qualified substitute available and participants will be notified of the change. Open Air Italy reserves the right to change any herein stated arrangements as may be necessary to best serve the participants of this workshop.